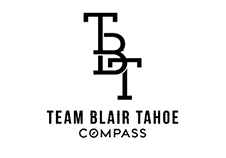 Tahoe Rental Company is partnered with our sister Real Estate Company Team Blair Tahoe.
Located in Tahoe City, CA, Team Blair Tahoe is a locally owned and family operated Real Estate Company, with a combined 50+ years of Lake Tahoe selling experience. Their agency includes an in-house Real Estate Attorney; two Website and Social Media experts; Marketing Specialists; an Escrow Coordinator; and an Executive Manager to help with every last detail during each transaction.
Over the last several years, the Blair family have been consistently rated in the top 1% of all realtors within the Tahoe Sierra Board of Realtors. This success has allowed them to re-invest in their company to provide the best service possible. 
Whether buying or selling, Team Blair Tahoe has a plan tailored specifically to your needs. If you're ready now, or 5 years from now, give them a call to discuss your real estate road map.
(530) 277-8654  |  info@teamblairtahoe.com  |  www.TeamBlairTahoe.com